JERICOACOARA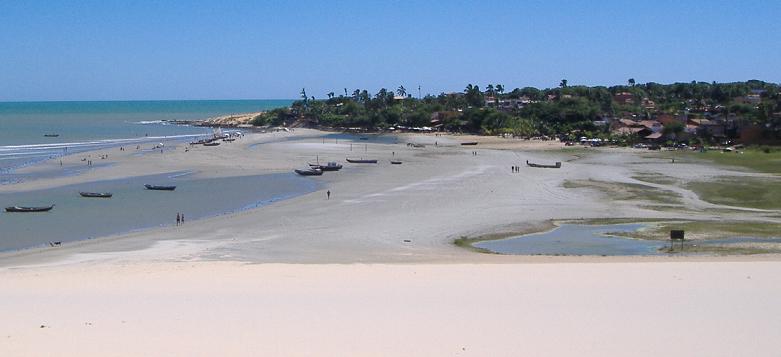 Brazil is not simply a "state": it's rather a continent, and it's not possible to visit it all in one journey only. So our first trip to the green-golden country will not include such stereotypes as samba in Rio, voodoo in Salvador de Bahia, sexy adventures or football-games!
We are heading to North-East of Brazil, looking for our "wild frontier" and a passage to get through, so we can say: «We did it! We did go beyond it!»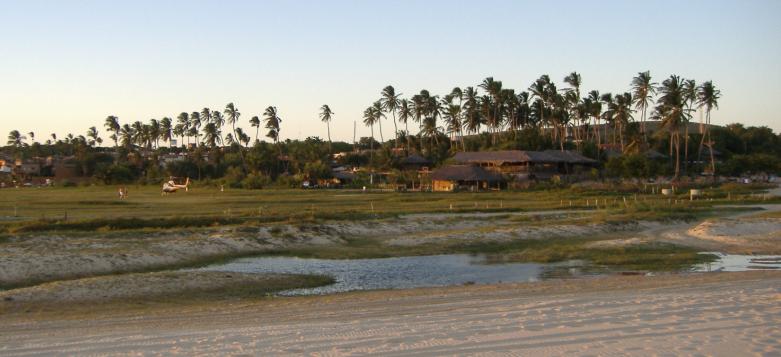 Our first destination is a tiny fishermen's village called Jericoacoara. It's in the state of Ceará, whose capital is Fortaleza, where we land after a 15-hour flight (see map velow).
We are not so exhausted as we had thought we might be, but we are happy anyway when we meet Alberto, an Italian guy who has been living in Brazil for 18 years and who is supposed to take us to his wife's pousada in Jericoacoara. The trip to "Jeri" in Alberto's 4WD-pick-up is very confortable despite the poor road conditions, and we enjoy a panorama full of palm-trees, simple villages and pristine beaches.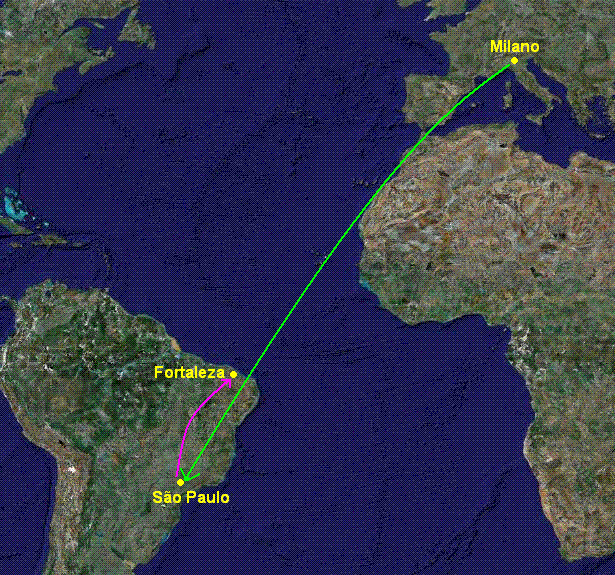 The more we drive north-eastbound, the more the road tends to... disappear, until there is no more road at all and we find our path on the beach, "playing" with the waves of the ocean that caress our wheels... So exciting!
Once in Jericoacoara we relax at "Pousada cajú" (the "Cashew Inn"), the best accomodation in town. I mean, I do know that there are a couple of hotels which offer a more de-luxe service, but none can give the guests the chance of such a beautiful tropical garden! We're very happy with our bed-and-breakfast choice; we know Lucy, a great cook and such a sweet girl!

Pão de queijo
Pineapple
mango
papaya
Yoghurt

Cheese & onion cake

The liquid sweetener: it's everywhere!

How can Vincenzo do without his cup of milk?
Jericoacoara is in a national park, so concrete and pavement roads are not allowed. The result is that the town streets are litterally made of sand! You can walk with bare feet, as there is no difference between the main street and the beach,... Or, well, actually there is a difference: Jeri is home to lots of free roaming donkeys and cows whose dung can be found where you don't expect, so... But at least it's organic stuff, isn't it? Better than car and industrial pollution, I guess.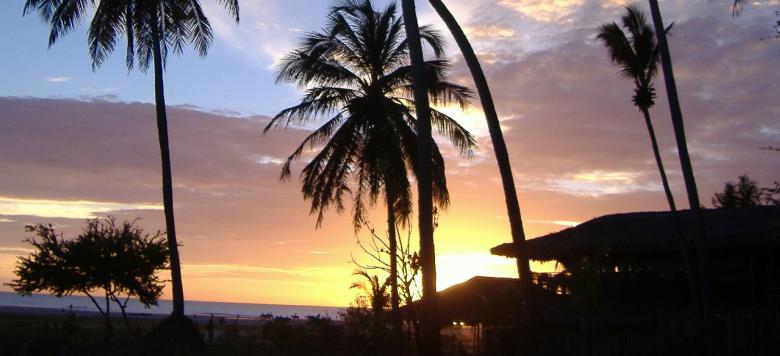 The rain season is just over, and the weather is really great: the temperature is about 40°C (104°F), but the sea breeze makes it all more pleasant.
Jericoacoara is surrounded by a lot of sand dunes, the most famous of which is the "Sunset Dune", just... around the corner"! By the way: sunsetwise, this village is really a great place since...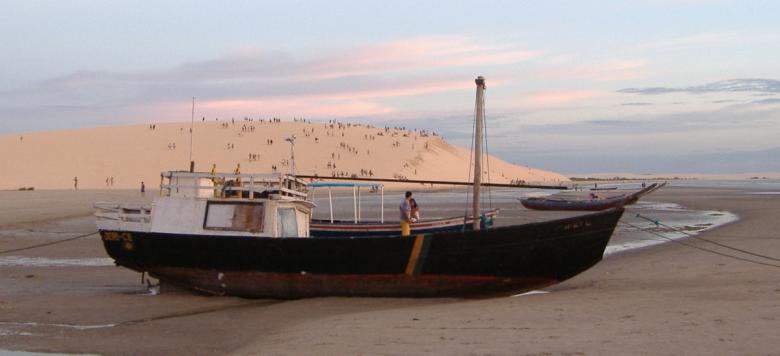 ...at 5 PM, a small crowd of tourists (mainly young people in their twenties from the southern Brazilian states, but also from Europe) climbs up the Sunset Dune to enjoy the last moments of the daily sun course. As soon as the last ray disappears beyond the horizon, people clap their hands and kiss. The atmosphere of peace is kind of touchable...